Perugia Swing Festival
with lots of exciting surprises!!!
★ PERUGIA SWING FESTIVAL ★
7 • 8 • 9 September 2018
With the Patronage of the Umbria Region, the City of Perugia and the Chamber of commerce of Perugia
★ 10 hours of classes! 
★ 5 international instructors!
★ 3 Parties!
★ 2 amazing live bands e dj sets!
For the occasion, the Park of Città della Domenica will transport you into the authentic atmosphere of the Swing Era:
✮ Crazy Street Live Band!


✮ 1920s- style Vintage Photo Corner!
✮ Free Vintage Hair Dresser and Make Up Artist!
✮  Vintage Market!
✮ Choco Vintage Show! 
….and much more!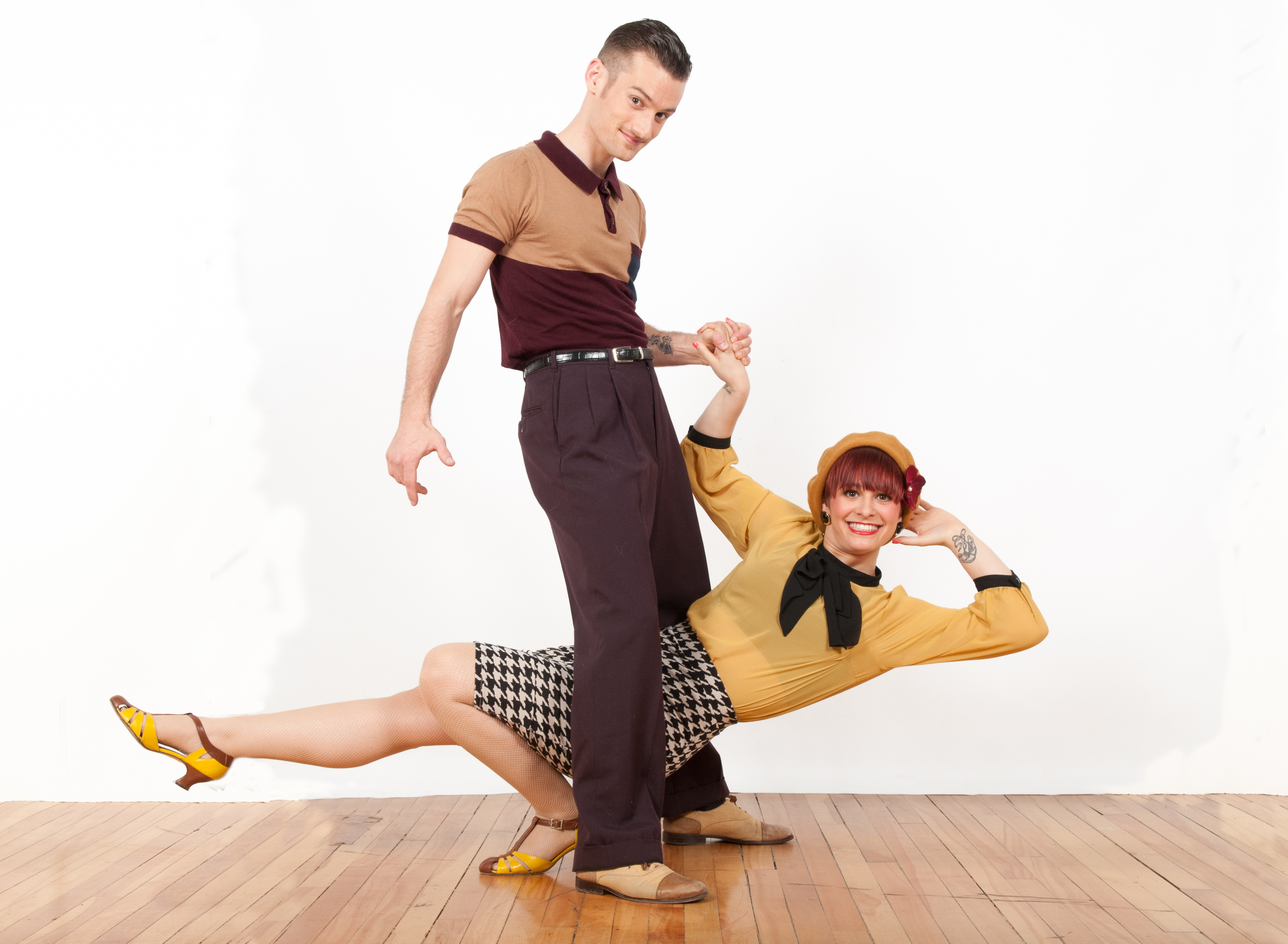 ★

WILLIAM & MAEVA

★
They met on the dance floors where they were competing at the age of 14 years old only.
After devoting many years to Boogie Woogie, for which they were crowned WRRC world champions four times (2005, 2008, 2009, and 2010), they decided to turn their professional dancing career to Lindy Hop in 2011, that of course, without putting their favourite style completely aside. The results were quick to follow.
William and Maéva now teach in the most important international swing events. Their ability to remain true to themselves and to assume their identity makes them stand out. Despite their young age, William and Maéva have been teaching and sharing their passion around the world full time for 5 years, being real professionals, fearsome competitors and showmen. These dancers of small stature will sure know how to carry you away into their world full of talent, humour, genius and generosity.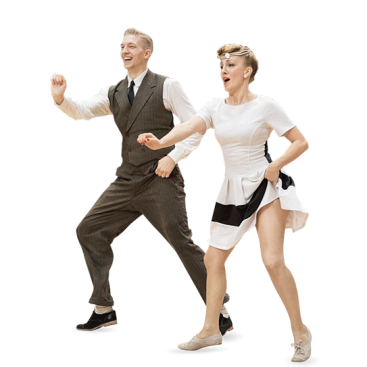 ★

ISABELLA & PONTUS

★
Isabella Gregorio is a renowned international dancer. She teaches and performs all over the world, dazzling students and publics of all ages. Isabella is often considered one of the top three followers in the world, and
is known for her crazy style and her showmanship. Her professional career started in Italy in 2002, soon winning prizes in several international competitions and beginning to teach all over the world with Vincenzo Fesi. Isabella has mastered different dance styles since she was a child. She has been in show business for many years as a singer and dancer.
Pontus Persson has been dancing since the age of 5, competing since the age of 6, and teaching since the age of 16. After graduating, he moved to Stockholm to develop his dancing skills further, and was invited to
join the Shots Harlem Hot dance company. Ever since then, Pontus has focused full time on spreading the Swing dance through shows and competitions, as well as teaching. He has worked for television, theatres
and international events all over the world. His teaching "is centred on the practice of body movement to achieve the magic of fun". Knowledge and performance are the key words for his dance and his teaching.
Isabella and Pontus have started dancing together in 2011. In this short period, they have conquered a worldwide audience and won several international competitions.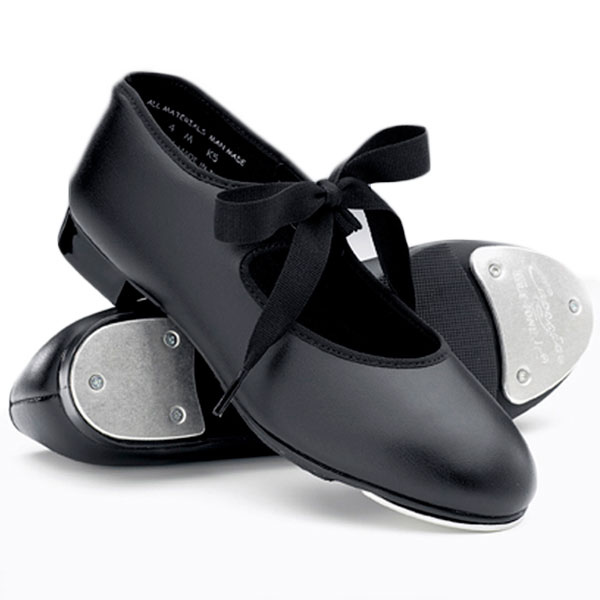 ★

KATHERINE WHITTARD

★
Instructor of Musical Theatre, Jazz & Tap.
Katherine was born in London and began to study dancing at the age of 3. At 14, she attended the London School of Contemporary Dance. At 16, she joined the London Studio Centre as a dance performer. She won important fellowships such as the Tom Merrifield Award for best all-round performer and the Dame Anna Neagle Award in Musical Theatre. During this period, she also studied music at the Guildhall School of Music. She won the first prize at the St. Luke's Award for chamber music. She sang as a soloist in the New London Children's Choir, performing in tour with Luciano Berio's Ofanim. She also sang in the English National Ballet's Nutcracker choir for about a year. Katherine was a dancer and singer in Andrew Lloyd Webber's famous musical "CATS", playing Jemima for about a year and a half, and in the musical "Watership Down". She also danced in the contemporary dance company National Youth Dance Company. She graduated in music at London's Trinity College of Music, specialising in singing. She played Papagena in Mozart's "Magic Flute" at the Darlington Festival. In 1999, she moved to Perugia, where she studied Italian at the University for Foreigners and received a Master in Methods and Techniques of Musical Education at the University of Perugia. She has obtained the FDI and CDE certificates for teaching Modern Dance and Tap from the Imperial Society of Teachers of Dance. Katherine has been teaching Jazz Dance, Tap and Musical in several schools in Perugia, Florence and Livorno. She has choreographed the musicals "Sisters", "Mamma Mia!" and "Artemisia Il Musical", which received the 2015 PrIMO Award (Italian Award for Original Musical). She constantly perfects her dance knowledge by taking courses with internationally renowned instructors in London.
 WORKSHOP PROGRAM
FRIDAY' 7 SEPTEMBER 
H 19.00-20.00 : TAP DANCE Free Class open level (Katherine Whittard)
from 20.00: Dinner (for the complete menù tap HERE)
FROM 22.00: Opening Party 
                             Teachers' welcome, live music and dj set
Location: Hotel La Meridiana 
SATURDAY 8 SEPTEMBER
Location Workshop: La Città della Domenica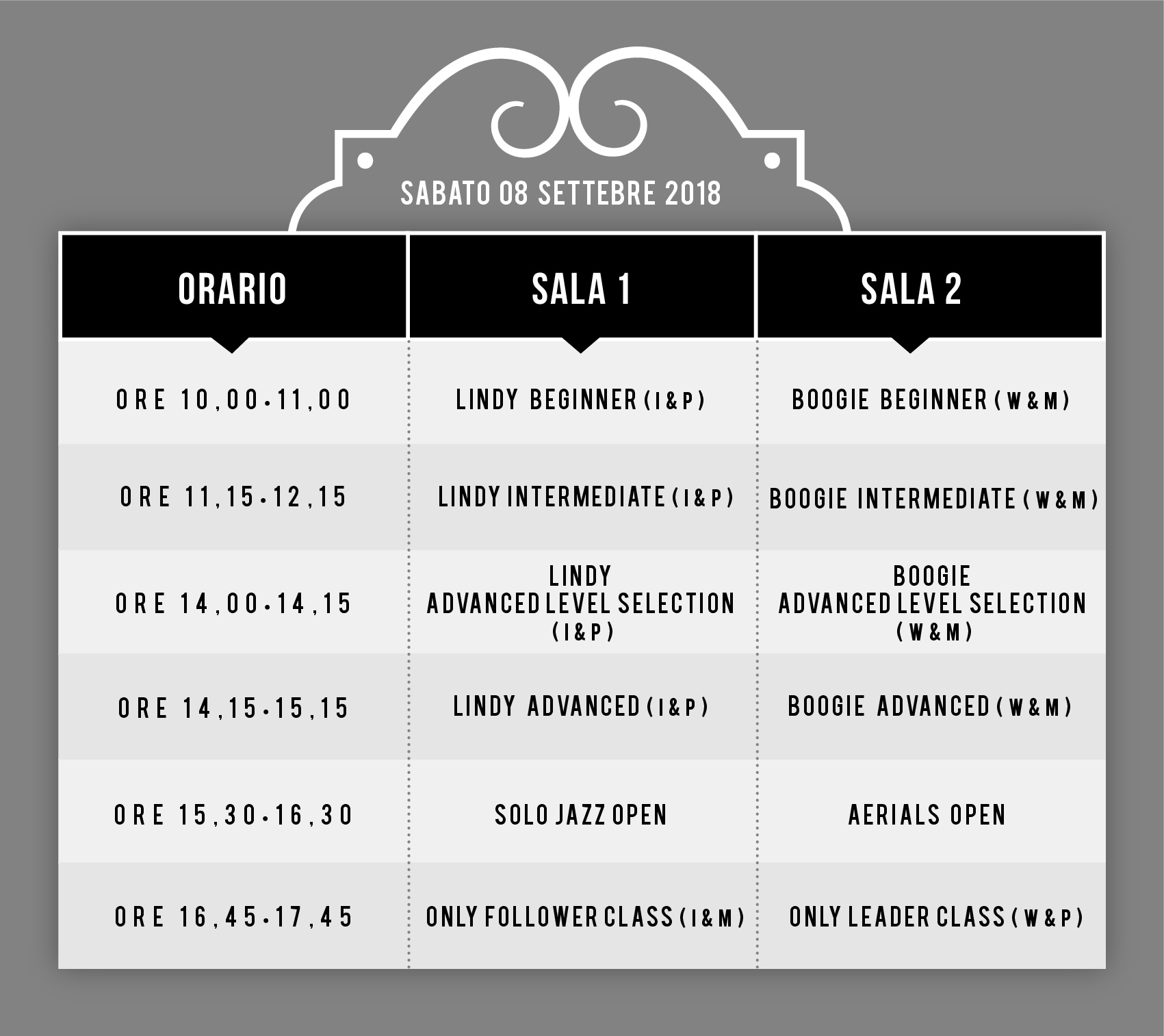 Ore 20.00: Dinner at La City restaurant (for the complete menù tap HERE)
Ore 22.00: Main Party, live music Billy Bros. orchestra with Norma Miller, dj set, teachers show, Open Jack'n Jill, Free hair dress & make up. 
**The program is subject to change.

SUNDAY 9 SEPTEMBER
Location Workshop: La città della Domenica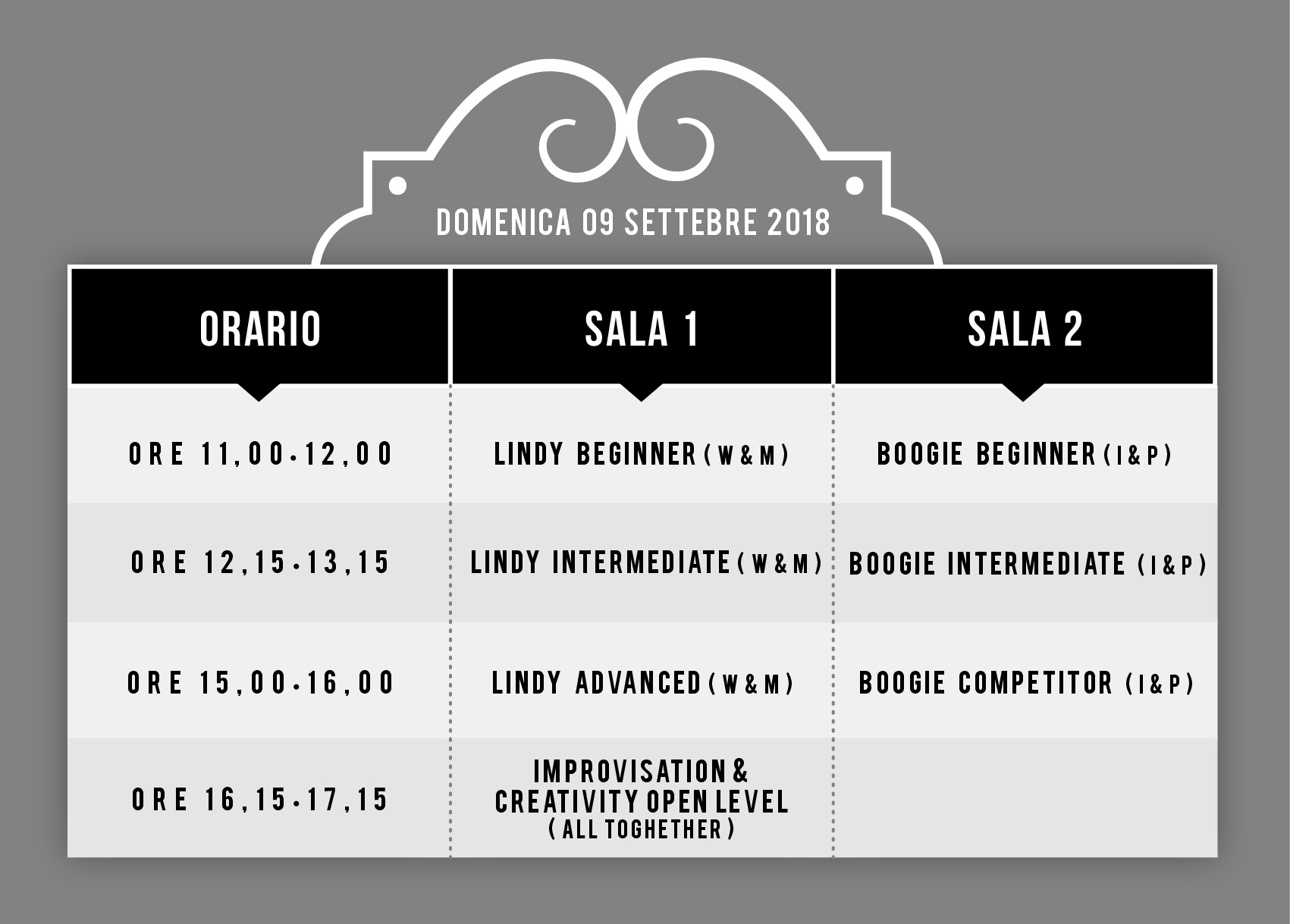 Ore 19.30: "Perugia and New York during the Swing Era", conference with interview to Norma Miller, at Sala dei Notari, Perugia historic centre
Ore 21.00: Farewell Closing Party, dj set, Piazza IV Novembre, Perugia Historic centre 
LEVEL DESCRIPTION: 
Beginner: for those who have been dancing for a few months and know the first basic steps
Intermediate: for those who have been dancing for at least a year and are familiar with all the basic steps in the beginner level
Advanced: for those who have been dancing for at least two years and have attended camps, workshop, and social dances
If you have problem with the Registration  Form tap HERE 
HOW TO REGISTER 
Registration steps
Before  20 May: FULL PACK 130 euro
Before  20 July: FULL PACK 150 euro 
After    20  July: FULL PACK 170 euro 
sports insurance of 10 euros for non- ACSI members (included in the FUL PACK)
How to register and pay:
Participants need to fill in and submit the form on this page, and pay through a bank deposit made to A.S.D. HAPPY FEET specifying NAME and SURNAME of the participants in the purpose of the payment. Your registration will only be considered valid upon receipt of your payment.
IBAN code: IT49 E076 0103 0000 0103 1873 019
After you have made the payment, please send the receipt to happyfeet.perugia@gmail.com
Those who need a receipt will be able to request it to the organizers during the Festival.
All Happy Feet members will enjoy exclusive discounts.
Discount for " Under 18″ and "Over 65".
Hotel reservation
Reservation and payment must be handled directly with the accommodation facilities.
THE LOCATION OF THE WORKSHOP
The Città della Domenica is Italy's first entertainment park, as well as of one of the biggest family attractions in Umbria. It is an ideal place for people of all ages who want to spend a pleasant and entertaining day surrounded by nature and animals. Covering a surface of over 45 hectares, it is located in a strategic position: it offers an extraordinary view on Perugia's city centre and of the wonderful landscape around it. It is close to the Renato Curi stadium, 5 minutes away from the Minimetrò terminal and only a 15-minute drive from Assisi and Lake Trasimeno.
Hotel La Meridiana 
Hotel La Meridiana is located in the heart of Umbria not far from Perugia. Nestled in the lush, green, surrounding nature, the Hotel offers a splendid stay with a focus on wellness and relaxation for those visiting on business or for couples and families on holiday. Free outdoor swimmingpool immers in the panoramic garden.  The ideal arrangement for those seeking the perfect relaxing setting for holiday or businness trip. 
To view the Hotel La Meridiana offer for the Festival tap  HERE